What You Need to Know About Residential and Commercial Fire Alarm Systems
Each year, the Fire and Rescue Service are called out to over 600,000 fires which cause over 800 deaths and over 17,000 injuries.
Installing and maintaining smoke detectors in your property could give you extra time to escape a fire safely. To do this, it is important to understand the differences in fire detector and fire alarm requirements for your specific type of property.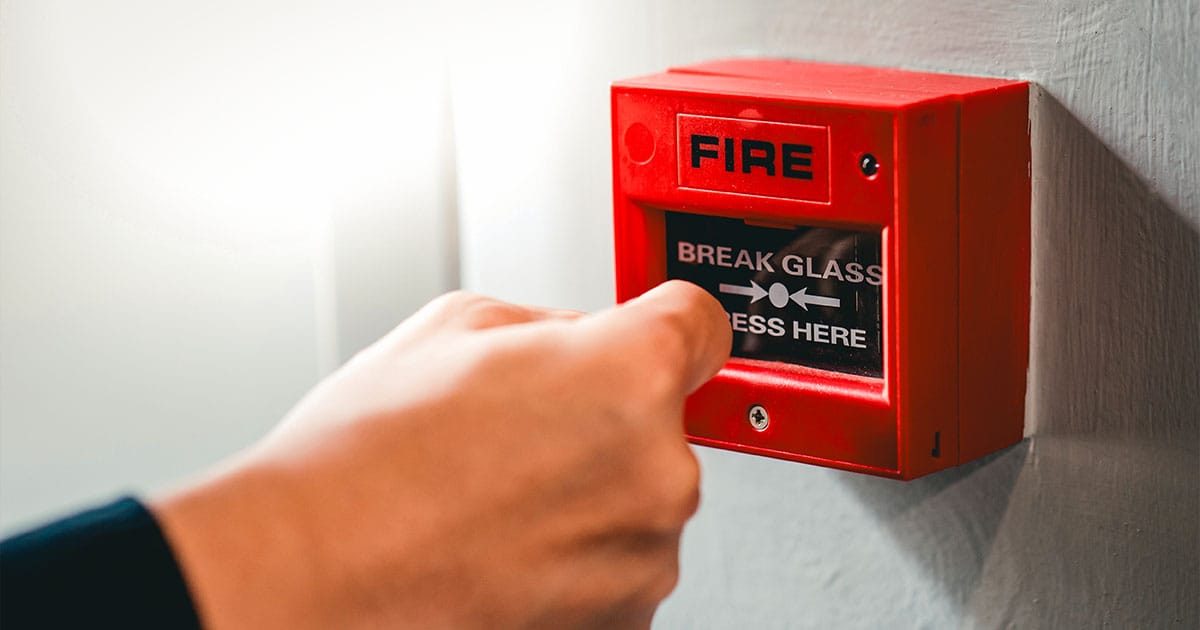 Fire systems used for residential properties
There are two main types of smoke detectors used for residential properties – photoelectric (optical) and ionisation. Photoelectric smoke detectors use light beams which cause a reduction in light passing to a photocell if smoke is present. In ionisation smoke detectors, smoke particles interrupt the ionisation reactions inside the alarm. Photoelectric detectors are more commonly used in homes because they are quick to detect smoke from burning fabrics and furnishings.
In residential homes, smoke detectors are often battery operated although there are some smoke alarms which connected to the mains electricity. Although it is strongly advised to have a working smoke alarm fitted in a residential property, it is not a legal requirement unlike commercial properties. However, for rented properties, it is the law that landlords ensure that a mains powered smoke detector is installed and maintained.
It is recommended that in residential properties, smoke alarms should be tested at least once a week. Most domestic alarms are fitted with a test button which can be pressed to check that the alarm is sounding clearly if a fire was to break out.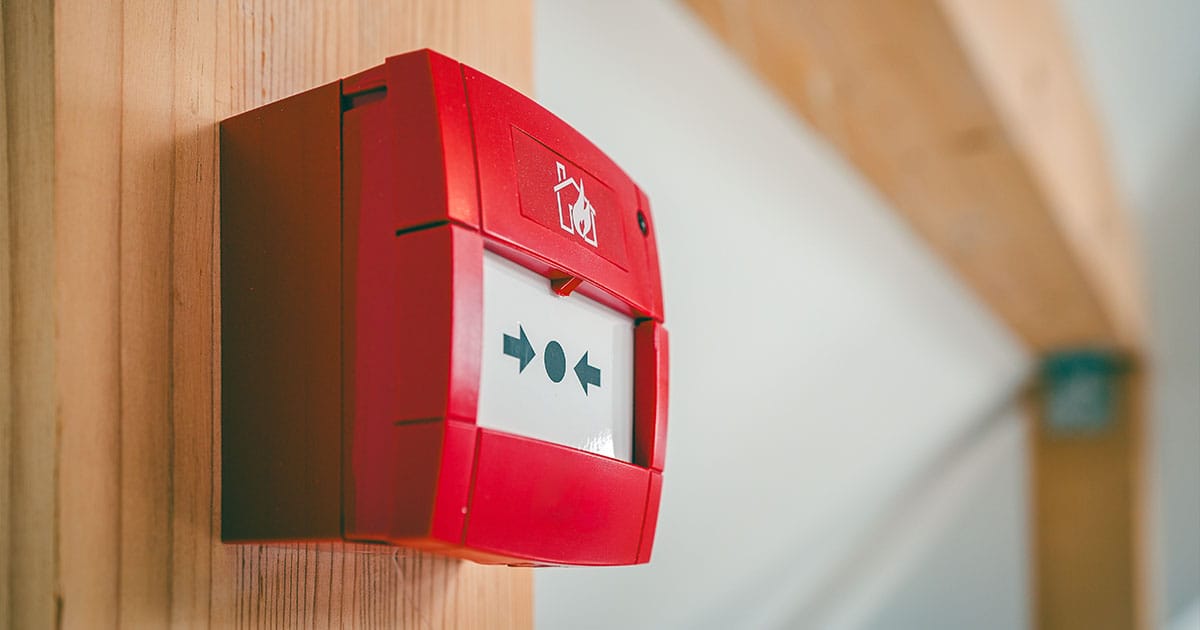 Fire systems used for commercial properties
As commercial properties can significantly vary, they have a variety of different safety requirements. Fire alarm systems in commercial buildings are usually much bigger and more complex than the ones used for residential buildings. These types of fire alarm systems need careful designing and planning, with a full fire risk assessment executed before installation.
Firstly, it's useful to clarify the differences between a 'smoke detector', 'smoke alarm' and 'fire alarm'.
A 'smoke detector' is able to detect when smoke is present within its detection range whereas a 'smoke alarm' gives an audible sound and often visible warning using a flashing light which is activated when the smoke detector has detected smoke in the area. The detector then sends a signal to the fire alarm control panel which then sets off the building's 'fire alarms.'
These three components need to be interlinked together through the central control panel which should ideally be monitored around the clock. The detectors should be locatable and clear using the central control panel so that the exact location of the fire can be identified within a large commercial building.
It is important that the smoke detectors are spread out across buildings, with several in each main area to ensure that wherever a fire starts, it will be detectable so that the fire alarm can then quickly alert people to the danger.
Unlike residential fire alarms, commercial fire alarms need to be tested by a qualified professional on a regular basis with a formal fire risk assessment. An inspection and servicing of fire alarms should be carried out at least 2-4 times per year, although this may need to be carried out more frequently depending on the specific requirements of the location.
Due to the varied nature of commercial buildings, there are different types of commercial fire alarm systems to fulfil specific fire safety requirements.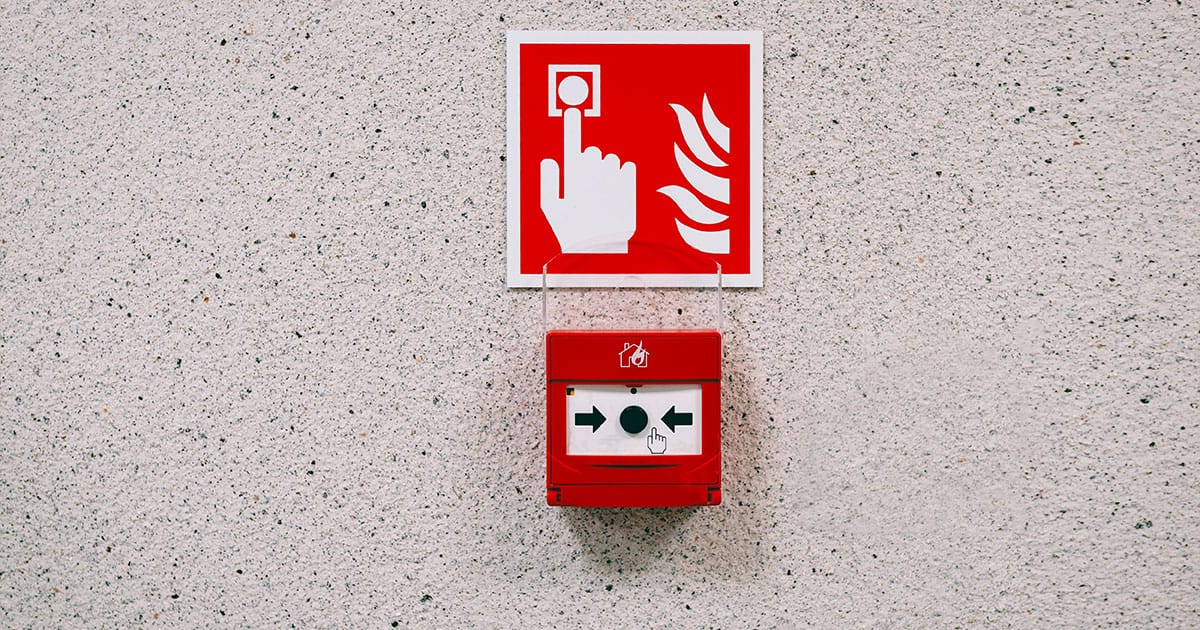 Fire alarms with PA systems
Some environments may need to provide specific evacuation instructions and communicate these to the people inside a building that is on fire.
Voice announcements can speed up the evacuation and save lives.
Wireless and radio fire alarms
Large buildings will need to have wireless or radio fire alarms.
An advantage of this is that they do not need hardwiring but can cover a range of up to 1.5km.
VESDA (Very Early Smoke Detection Apparatus)
This alarm system samples air and processes it looking for smoke.
These fire systems are essential when there are a large number of people gathered in a building. E.g. for entertainment venues.
For more information on fire protection systems, smoke detectors and fire alarms for residential properties or commercial properties in Hertfordshire, Bedfordshire and Buckinghamshire, please contact Fire Guard Services today!
Contact us for a no obligation quotation