Our team of experienced professionals are dedicated to providing comprehensive fire protection services to ensure the safety of your property and everyone inside. Our team are fully DBS checked and consists of highly trained technicians, engineers, and support staff who are passionate about protecting lives and property from the devastating effects of fires.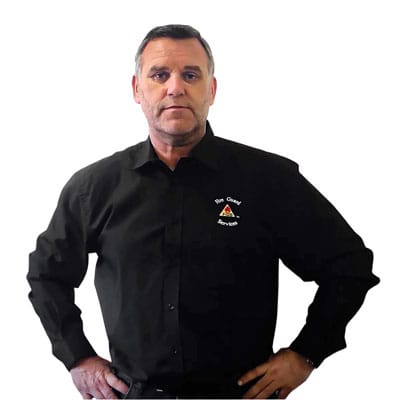 My name is Fred and I've been working in the fire safety industry for over 30 years. As an ex-firefighter, I've served in two fire brigades and have been awarded the top bravery award during my time with the Fire Service.
I am also a member of the Institute of Fire Engineers (IFE) and am trained by the Fire Protection Association (FPA) and Institute of Occupational Safety & Health (IOSH). My other qualifications include:
IFE member
BFSA member
IOSH qualified
FPA qualified
Alcumus SafeContractor
British Fire Consortium member
UK Fire Door Approved Inspector
FireQual Approved Inspector
I am fully trained to offer detailed fire risk assessments at your business premises and also undertake training sessions for your staff to ensure they know how to act in the event of fire.
Outside of work, I love spending time with my family.
My name is Brendon and I have been working in the fire industry for over 10 years now. I started working at Fire Guard Services as an extinguisher engineer with no previous experience and am now the service manager looking after the team of technicians we have.
During my time working in the fire industry, I have completed many training courses including:
WC7c Understanding Fire Doors - FPA
Fire Alarm, Foundation, Maintenance, Installation, Commissioning Level 3 – BFC
Fire Alarm, Units 5,4,1 FIA Training
Fire Extinguisher – BS5306 Parts3 and 8 – FIA/BAFE
Emergency Lighting – Foundation -BFC
Inspection and testing of Lighting Protection Systems – EAL
Level 3 City and Guilds Award for Service Inspection and Testing of Electrical Equipment (PAT)
Aico Expert Installer Scheme - AICO
Various fire alarm manufacturer courses including, Kentec Syncro Lv1&2, Ziton ZP3, Advanced MXpro, Hyfire Static, Dynamic and Taurus and BT Redcare installation.
I also take part in regular continual personal development (CPD) courses in all areas to keep my knowledge up to date.
Outside of work, I like to keep busy with my many pets including my dogs, aviary birds, Koi, tortoise and chickens. I also enjoy horse riding and working on my allotment in my spare time.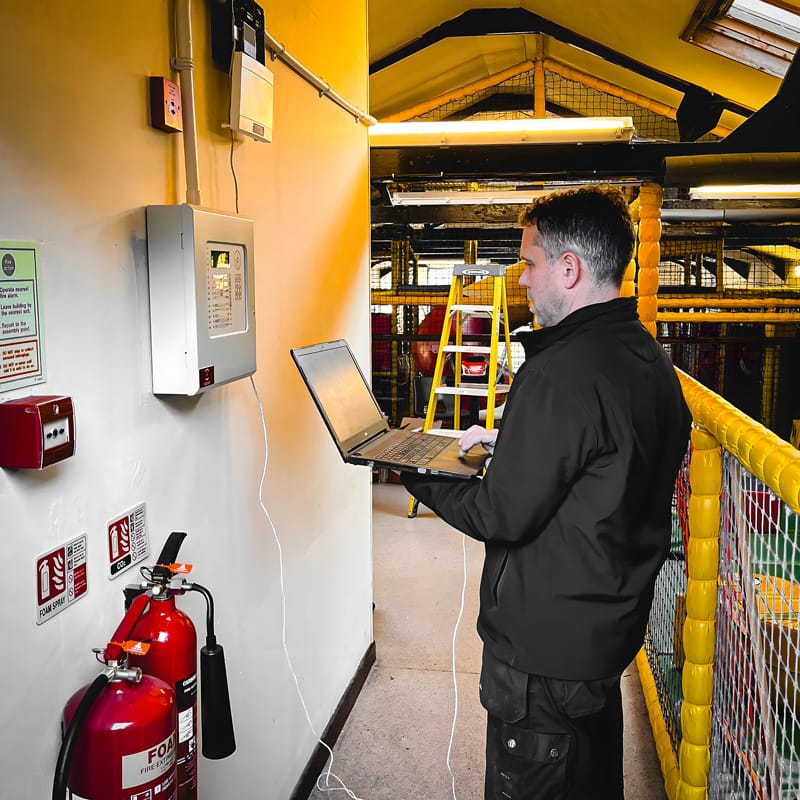 My name is Adam and I'm a Fire Alarm Technician for Fire Guard Services. I've worked for Fire Guard Services for over 10 years and have over 15 years working in the fire industry working with other fire safety companies in the past.
Since working in the fire industry, I have gained multiple qualifications including:
Fire Alarm - FIA units 1,4&5 BS 5839.
The British Fire Consortium - Level 3 Fire Alarm.
Fire Extinguisher - BAFE and FETA BS 5306 parts 3:2017 and 8:2012
Emergency Lights - The British Fire Consortium BS 5266-1
PAT testing - NIC EIC 2377-12 city and guilds level 3.
ECS card - Fire Detection and Alarm systems, maintenance, installation and commissioning.
Emergency Light systems, maintenance, installation and commissioning.
Before becoming a fire safety engineer, I was an HGV mechanic working for Scania GB. During my time working there I completed a 3 year apprenticeship and obtained a GNVQ Level 3 and BTEC national in HGV mechanics.
Outside of work I love spending time with my son. I enjoy carp fishing and am also an avid football fan and Spurs supporter with hopes to become a football coach in the future.
I am Lisa and I've worked for Fire Guard Services as a fire technician since early 2022. Prior to this, I was a fire alarm service engineer for a company working in central London. I also have experience as a fire safety officer with the fire and rescue service, where I gained my knowledge of the legislation in the industry.
Outside of work I have 2 horses and have competed nationally. I also have 3 chihuahuas!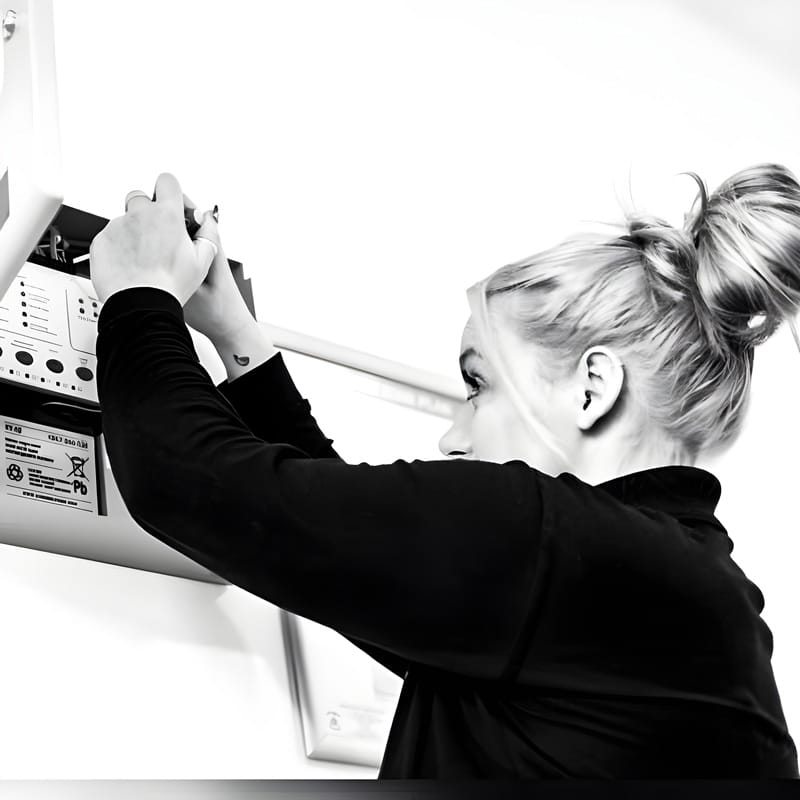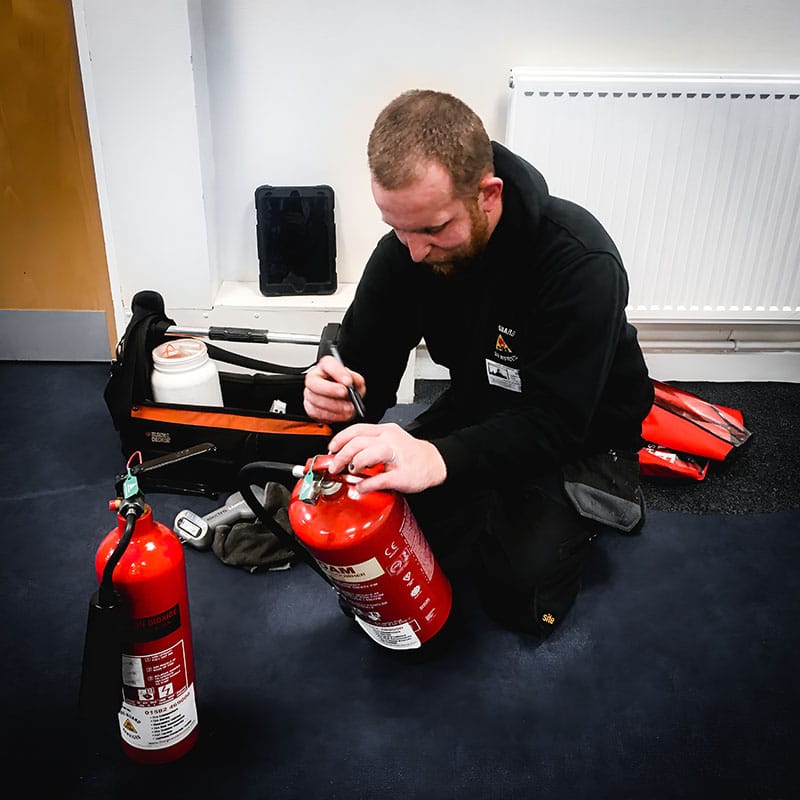 Hi, I'm Harry and I've been working for Fire Guard Services for over 2 years. Since joining Fire Guard Services, I have completed my level 3 fire extinguishers course and have gained a lot of experience working in the industry.
Before joining Fire Guard Services, I worked as a metal fabricator/welder of which I thoroughly enjoyed.
In my spare time I enjoy playing rugby for Stockwood Rugby Club as a hooker/flanker. I also play darts for my local pub and compete in the Markyate District Darts League.
Contact us for a no obligation quotation
Whether you need fire alarms, fire extinguishers, or other fire protection solutions, you can trust Fire Guard Services to deliver reliable and effective solutions.
Let us help you stay compliant and safe.
SafeContractor is all about showcasing that a business puts their employees' health and safety first. SafeContractor is an accreditation provided by Alcumus, who are a leading provider of risk management, certification and accreditation services with over 27,000 members.
SafePQQ is an extension of the Alcumus SafeContractor health and safety contractor management system. Achieving this coveted accreditation offers businesses like ours greater visibility of their supply chain compliance which in turn increases the credibility and integrity of that organisation.
The Institution of Occupational Safety and Health (IOSH) is the world's Chartered body for safety and health professionals.
They are the largest membership body for health and safety professionals.
They champion occupational safety and health causes and advocate for change.
They advise governments, NGOs and policymakers.
They facilitate safety and health awareness training in around 130 countries through IOSH Services Ltd, our wholly-owned trading arm.
They are an awarding organisation for occupational safety and health qualifications.
They commission research and set national and international standards.
The Fire Protection Association is the UK's leading fire safety organisation, committed to setting the highest industry standards, influencing policy and supporting members with the most comprehensive fire safety news, advice, training, resources and exclusive benefits.
The Institution of Fire Engineers (IFE) is a global professional membership body for those in the fire sector that seek to increase their knowledge, professional recognition and understanding of fire through a global discourse. With over 100 years of history, the IFE is instrumental in shaping a future world that is safer from fire.
BSI enables people and organizations to perform better. We share knowledge, innovation and best practice to make excellence a habit – all over the world, every day.
FireQual is the specialist awarding body for the fire protection industry working for the betterment of knowledge and skills.
Phil, Compliance Manager
M & S Water Services
Your engineers are always very helpful and clear with the advice they give me - would recommend your services to others.
Iain, Senior Business Manager
Welcome Gym Chesham
I just want to take the time to commend Adam on his professionalism. He is a credit to your company and is helpful, courteous and always gives the impression he is not trying to rip you off like other companies we have used. He is a bit like 'Ronseal' as he does exactly what is asked of him and doesn't need reminding.
I've always been very happy with the work you've carried out on our bridal boutique over the years. Will definitely recommend to other local businesses in the area.
Jamie, Facilities Manager
MK Gallery
Yes, I'd absolutely recommend the services of Fire Guard.
Moira, Company Secretary
Pan Auto Services
I'm very pleased with the service Fire Guard provide. They're always very efficient and give helpful advice. Would highly recommend to other local businesses.
Amanda, Company Secretary
Bourne Close Flats Management Company
Fred and Brendon are both very knowledgeable in their field of work. Always so impressed when they come out to service our flats.
Neil, Administration Manager
Level Trust Uniform Exchange
Fire Guard Services always supply us with an excellent service and great flexibility.
Gary, Oxygen Recovery Service Manager
DrugLink
It's always great how quick, helpful and responsive the engineers are when dealing with our enquiries.
Contact us for a no obligation quotation