WE PROVIDE

COMMERCIAL

FIRE RISK

ASSESSMENTS

IN THE HOME

COUNTIES

AND NORTH LONDON
A fire risk assessment is a methodical and thorough fire safety assessment of your premises and the activities that you carry out. Based on the results of the risk assessment, we will be able to advise you about the degree of protection that your existing fire safety strategy, procedures and equipment provides to your premises, staff and customers.
How Do We Carry Out Fire Risk Assessments?
Fire Guard Services' five step risk assessment process includes:
FIRE

SAFETY

ASSESSMENTS and

comprehensive

advice
We offer five step fire risk assessments to identify and reduce fire hazards.
This includes identifying fire hazards and people at risk, evaluating and protecting from risk, recording and planning, informing and training staff, and annual reviews.
Our assessments also include inspecting fire doors and shutters, escape lighting, firefighting equipment, warning systems, and safety signs.
Our engineers provide detailed risk assessment reports, complete with colour photographic-evidence documentation and a full advisory service. This includes advice on any fire safety remedial works required and a timeframe for carrying these out.
Upon completion, your risk assessment will need to be reviewed and renewed annually, to ensure that your establishment adheres to legal and legislative fire-safety regulations.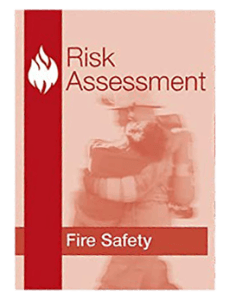 Download a sample risk assessment
A fire risk assessment is a "live" document and should be regularly reviewed and updated.
Our Senior Fire Risk Assessor
SENIOR FIRE RISK ASSESSOR, OPERATIONS MANAGER
SENIOR FIRE RISK ASSESSOR, OPERATIONS MANAGER
Fred has over 30 years of experience working in the fire safety industry. Fred is a member of the Institute of Fire Engineers (IFE). He is also trained by the Fire Protection Association (FPA) and Institute of Occupational Safety & Health (IOSH).
British Fire Services Association member

British Fire Consortium member

UK Fire Door Approved Inspector

FireQual Approved Inspector
Talk to us about a Fire Risk Assessment
Your Fire Risk Assessment Questions Answered
A fire risk assessment is an important part of any business's safety plan. It is essential to determine the risk of fire and take the necessary steps to reduce the possibility of a fire or ensure the safety of your employees and customers.
In this short FAQ, we will address common questions about fire risk assessments, including what they are, why they are important, and who can conduct them.
A careful look at your premises and the people who use them, from a fire prevention perspective. It's about understanding the potential risks, then improving your fire safety precautions to keep people safe.
Unfortunately not. If you don't have the expertise – or time – to do the fire risk assessment yourself, appoint a specialist to do it for you.
A fire safety hazard is something that could give rise to a fire or smoke. For example, this could be a room full of electronics or badly managed combustible or flammable materials.
Building Factors, Smoke, Air Track, Heat, and Flame (B-SAHF) are critical fire behaviour indicators.